Please read the information below carefully :
Registration procedure for the workshops

Select the workshop your are interested in.
Complete the form at the bottom of the page to book your place.
You will receive an email within 24 hours indicating the procedure to follow to confirm your place (subject to availability of places). Please pay attention to the instructions : You will have 7 days from receipt of the email to pay and confirm your place. If you do not complete the confirmation within the time limit, your place will no longer be guaranteed.
After the payment, you will receive a last email confirming your definitive enrollment in the workshop.
---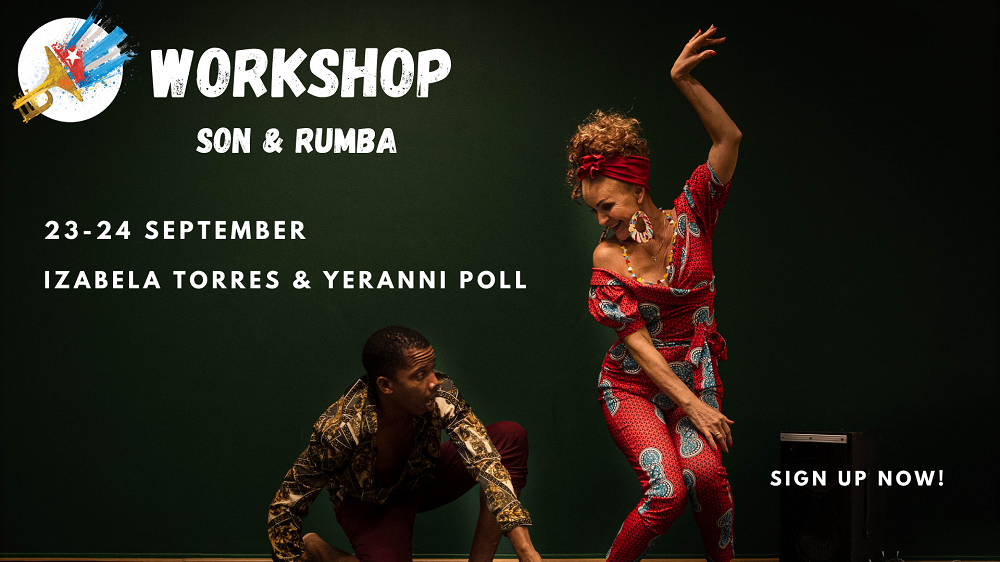 Ahinama organizes a Cuban Salsa workshop with Izabela Torres & Yeranni Poll !
Places are very limited, to have a better follow-up. Don't miss it!
• Program:
Saturday 23 September - Son tradicional

(Full women)
13h00 - 14h00 : Characteristic steps, rhythm and body movements
14h15 - 15h15 : Sequence with Abanico & Sombrero (Hat & Fan)
15h30 - 16h30 : Tornillos (men and women)
      Ladies : If you feel like, you can bring a long skirt, high heels and a fan

      Men : Bring a hat is you have one

Sunday  24 September - Rumba cubana

(Full women)
13h30 - 14h30 : Guaguanco : characteristic steps and rhythm
14h45 - 15h45 : Salsa con Rumba
16h00 - 17h00 : Columbia (men and women)
Ladies : You can bring a scarf
• Location : Brasserie de l'Arrêt
• Fee : Per day : 15€ per session, 25€ for two sessions and 30€ for three sessions.
• Registration conditions :

Places are limited to 20 people per session !
Each day corresponds to a theme. It is therefore advisable to follow all the sessions on the same theme for better progress.
Attention, it is recommended to have at least 1 year of experience in Cuban salsa!
Registration form
closed