Please read the information below carefully :
Registration procedure for the workshops

Select the workshop your are interested in.
Complete the form at the bottom of the page to book your place.
You will receive an email within 24 hours indicating the procedure to follow to confirm your place (subject to availability of places). Please pay attention to the instructions : You will have 7 days from receipt of the email to pay and confirm your place. If you do not complete the confirmation within the time limit, your place will no longer be guaranteed.
After the payment, you will receive a last email confirming your definitive enrollment in the workshop.
---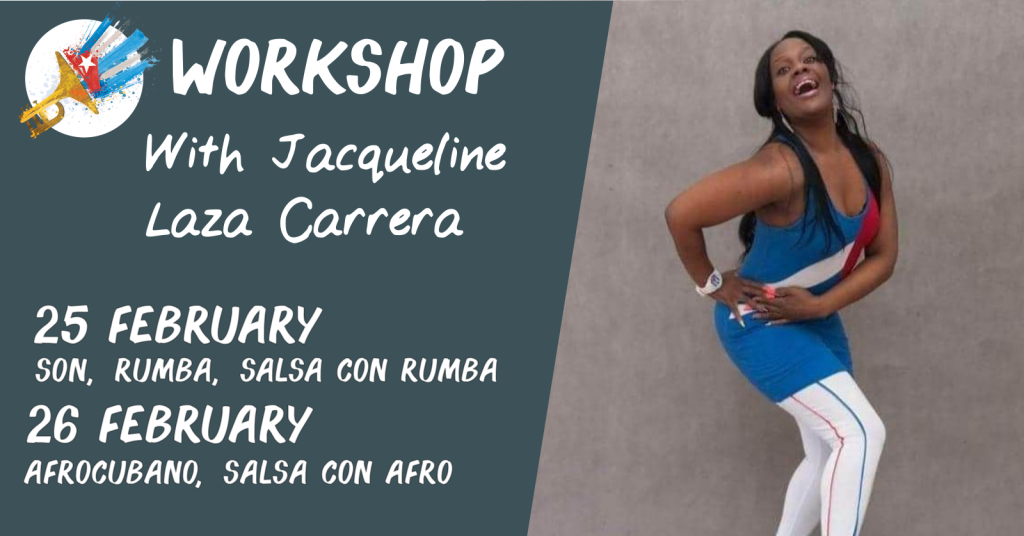 Ahinama organizes a workshop of Cuban popular dances and Afro with Jacqueline Laza Carrera (Havana/Wroclaw).
Zoraida Jacqueline Laza Carrera – Cuban dancer and since 1997 teacher of the popular Cuban dances, AfroCuban and Rumba. She first started her career as a dancer with the group Pinos Nuevos with its director Lázaro Noriega Aguirre. Across her professional career she had the chance to dance with a number of fantastic artistic ensembles, like Youruba Andabo, Turarte or Rumberos de Cuba. Since 9 years she has been working for Torres Art & Studio agency in Poland.
On Saturday 25th and Sunday 26th February, you will have the opportunity to learn or improve your skills with intensive sessions. Places are very limited, to have a better follow-up. Don't miss it!
• Program:
Saturday 25 February
14h00 - 15h00 : Son (basic/inter) [
full

]
15h15 - 16h15 : Rumba (basic/inter) [
full

]
16h30 - 17h30 : Salsa con rumba (basic/inter) [
full

]
Sunday 26 February
10h30 - 11h30 : Afrocuban body movements (inter)
11h45 - 12h45 : Salsa con Afro (inter)
14h00 - 15h00 : Orisha Oya (inter)
• Location : Brasserie de l'Arrêt
• Fee : 15€ the first workshop, 30€ for two workshops, then 40€ for three, 50€ for four, 55€ for five and 60€ for the whole package.
• Registration conditions :

Places are limited to 20 people per session !
Individual classes with Jacqueline are also possible as well and cost 40 EUR/h.
Registration form