Registrations are closed
Please read the information below carefully :
With the number of places for each course being limited, consider registering quickly before there are no more places available.
Check that you have the right level for the session you are registering for (see course description). Teachers reserve the right to refuse entry or re-direct participants who do not have the appropriate level. The participants will be able to request a refund of registration fees.
Registration procedure

Complete the form at the bottom of the page to reserve your place.
You will receive an email within 24 hours indicating the procedure to follow to confirm your place (subject to availability of places). Please pay attention to the instructions : You will have 7 days from receipt of the email to pay and confirm your place. If you do not complete the confirmation within the time limit, your place will no longer be guaranteed.
How the form works
Each form completed corresponds to the registration of a single person. If you wish to register a partner or friend, you will have to fill out a new form with the information of that person.
If you want to register for a second course, please fill a new form
It is not mandatory to register as a couple to participate in a class. But if you register as a couple, please indicate the name of your partner as not to separate you (in the case of a waiting list, if the classes are full for example)
The semester will begin as from Wednesday 21 September 2022
Class Schedule (September 2022 to February 2023)

Wednesday

19h – 20h : Level 2B – Upper Intermediate
20h – 21h : Level 1A – Absolute Beginner (full)
21h – 22h : Level 1B – Upper Beginner (waiting list Women due to a lack of men)

Thursday

19h – 20h : Level 2A – Intermediate (full)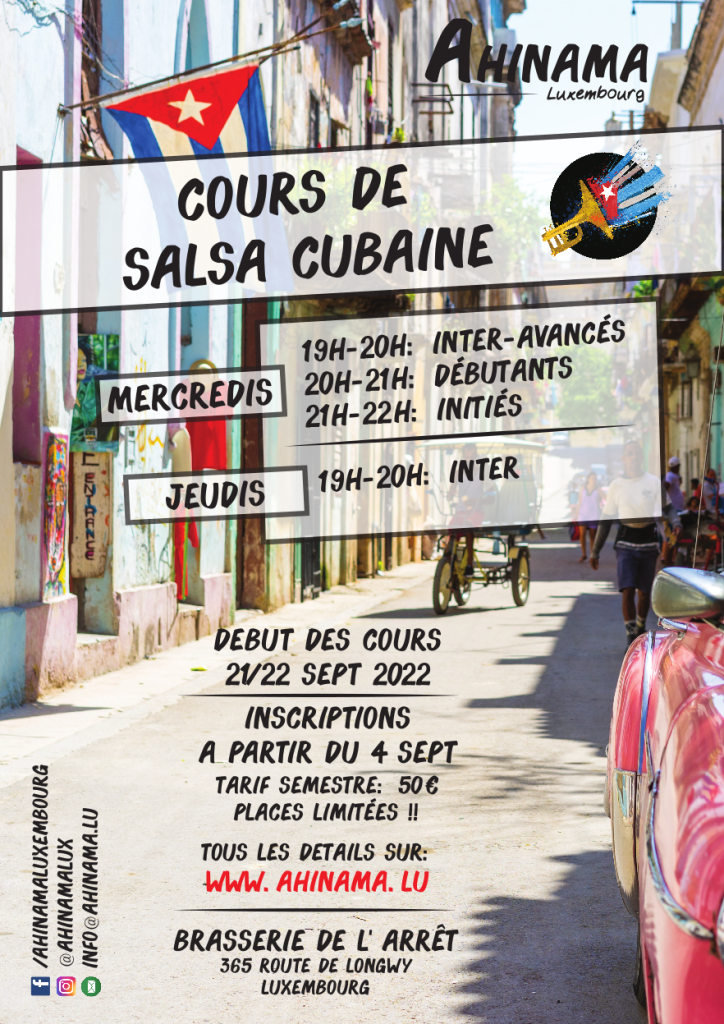 ———————————————————————————–
COVIDCHECK NOTIFICATION !
– We rely on the rules applied to catering and we will have to adapt if the situation should change.
ATTENTION !
By registering, you agree to the following :
– The association Ahinama ASBL can not be held responsible for damages suffered by the individual during dance classes, nor theft or bodily injury, of which the individual accepts responsibility.
– In the event of withdrawal from a class, the individual will be entitled to a refund of the registration fee if they withdraw within the first three weeks of the course. After this period, no refund request will be accepted.
– Your personal data (name, surname, email) will be used only for the purposes strictly required for the association to send information about its activities (parties, workshops, courses). This information is strictly confidential and will not be disclosed to third parties. You may at any time request the modication of your personal data. You can at any time of the year request your withdrawal from the mail listing, in which case you will not receive any more information from us by email.
———————————————————————————–
Registration Form
Closed